Sheeting, what is it Used For?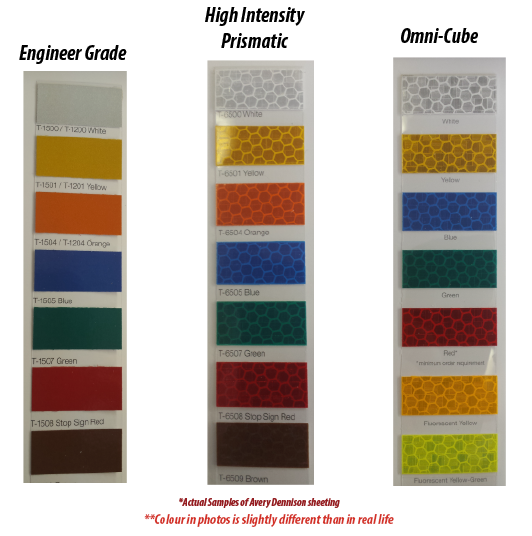 When ordering signs, there are three different types of sheeting that can be used. Although some sheeting must be used for specific signs, such as construction. So what are the three different types? How long do they last? What are they used for?
Listed below are Top 5 Lists for Engineer Grade, High Intensity Prismatic and OmniCube sheeting.
Engineer Grade – ENG
Used for non-critical road and street signs where extra reflectivity is needed.
Less reflective than Hi Intensity or OmniCube.
Printable with digital and screen printing.
Used for reflective stickers and decals.
Life span is approximately 5 to 7 years.
Hi Intensity Prismatic – HIP
Used for more permanent traffic signs and traffic control devices.
Highly reflective in both night and day.
Commonly used for work and construction zones.
Production produces 97% fewer emissions than ENG and uses 72% less energy.
Life span is approximately 10 years.
OmniCube – Omni
Can be used for stop, yield and street name signs
Full-cube sheeting returns 60% of light back to motorists.
Features "Smart at Every Angle" technology.
Best used for permanently fixed signs.
Life span is approximately 10-11 years.
These are just a few of the benefits and differences between the sheeting Our extremely knowledgeable sales staff can give you more excellent advice on what you need to make your signs visible to motorists and pedestrians alike. Competitive prices and great service is what you've come to expect from Airmaster Signs.